Get ready to meet Juiccy Misdemeanor, the dazzling drag queen sensation taking the Denver scene by storm! Recent winner of the Miss Peach 2023 Pageant, she is a notable member of the House of Misdemeanor. With her larger-than-life personality, bold fashion choices, and mesmerizing performances, Juiccy Misdemeanor is not your average drag queen. She rocks the crowd with a vibrant energy that is authentic and infectious. Once I learned that she started in a Kiki house and had a background in Ballroom, it all fit together. In this article, we will delve into the world of Juiccy Misdemeanor, exploring her unique style, personality, and rise to drag queen stardom. So sit back, grab your wig, and get ready to be captivated by the one and only Juiccy Misdemeanor!
GayDenver: How would you describe Juiccy?
Juiccy MisDemeanor: Juiccy is a ball of energy! She loves to party and have a good time, but safely and respectfully. She and I love our communities dearly. She is constantly on the hunt for more shiny things.
GayDenver: Where are you from?
Juiccy MisDemeanor: I was born and raised in St. Louis, Missouri. My family derives from the South, so I'm a perfect Midwestern/Southern mix.
GayDenver: How long have you been doing drag?
Juiccy MisDemeanor: In this community, in Denver, 3 years this June. I did dabble pretty heavily with drag when I was in college. Mainly going to parties and classes in partial or full drag. I was experimenting, you know?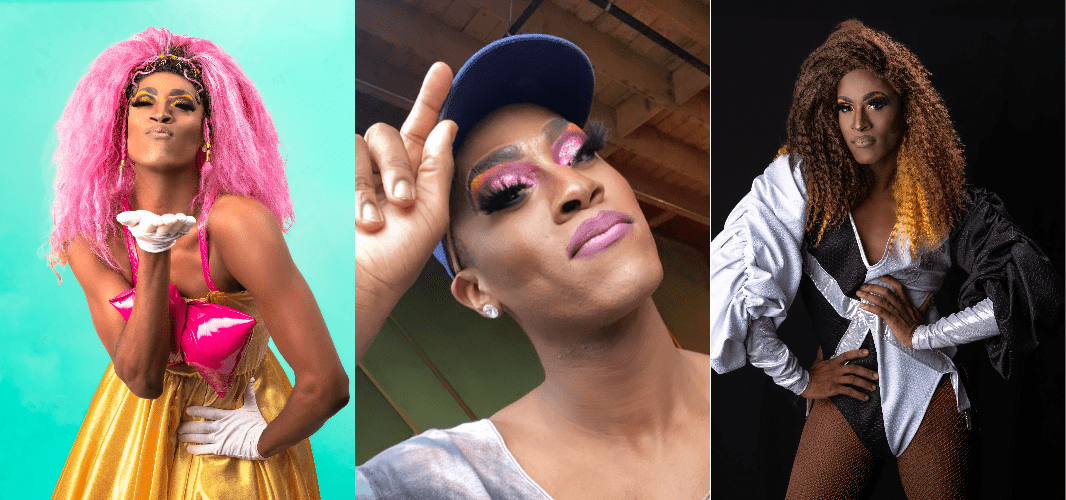 GayDenver: How did you get started in drag?
Juiccy MisDemeanor: I used to go to Lipsync Thursdays at XBar. I loved it. It wasn't karaoke but it wasn't drag. It was a right on that thin line between both. I started to do it more and more, I was in love with it. At the time a performer, KaiLee Mykels, who hosted the show, "QUEER CHURCH" asked if I would be in her show! I was surprised and flat-out told her that I wasn't a drag artist. She loved my energy and wanted me to do it anyway. That's how I came to be a regular performer in a show called "The Queer Church". I wasn't yet like the full-drag artists. I was a queer act performer, who choreographed dances and super androgynous looks. I feel like I grew and I liked performing within my androgyny. I did that for a while, just enjoying myself and experimenting. Felony Misdemeanor came around a few times and asked me to join the Misdemeanor family. Of course, after some consideration, I said yes! Shortly after that Covid happened, so I started what I call my official drag career during lockdown. That was tough but it gave me a unique start. I did a lot of videos and Drag Queen Read-along or Story Time. I dropped a video called "My Power", based on the Song by Beyonce Knowles, on Instagram. It was a queer, black music video that I did for "Black Diamonds"; A Digital Drag Show Produced by my Drag Mother, Felony Misdemeanor. That's when everything exploded for me: everything started to come together after that.
GayDenver: How does it feel to be Miss Peach?
Juiccy MisDemeanor: It is amazing, but it was very stressful. It is a local pageant with producers and artists I knew, that added a comfortable feeling you don't get elsewhere. It was also very open to interpretation. We (the competitors) had a lot of creative space to express ourselves. A lot of other pageants can be very restrictive with, for instance, what colors you wear, the songs you pick, etc.
The only goal we were given was to present our best feminine energy or essence. When I heard that, I said, 'Easy, just be myself'. The South in me loves pageants. They always have a classy, elegant feeling that I feel I wear comfortably. It was truly an amazing experience.
GayDenver: What inspires Juiccy's aesthetics and looks?
Juiccy MisDemeanor: Juiccy references a lot of my drag styles or aesthetics from traditional pageants and Southern pageant drag. I've always loved the old-school aesthetic. Much of my performances are high-energy and very disco bass. I love the disco era of music. I love Chaka Khan and Whitney Whitney. I love the raw, fun in the summer. I love that I feel like a celebrity. It's very much my era; I love a good drag review number; as in like a whole mix of just like Songs Everyone Should Know. And yeah, that's me, Disco Queen! Very high energy.
GayDenver: How has your drag persona changed over the years?
Juiccy MisDemeanor: I think it's still changing. I think we're always ever evolving especially as a person. So, when John evolves, so does Juiccy. But you know, if I especially think of evolution, in my actual office, I have pictures of myself in like, drag from my birthday party, they were cutouts of my face. People were using the pictures in the photo booths. And they're different, like different evolutions that are very different pictures, renditions of me. it's like at one point, it's just very like surface level. I used to have a drag that was like, very androgynous I was still blended and good-looking but had like a mustache and a goatee. It was almost like what I call gender fuckery but actually, it was like, had been me, which I lived for, for a while, and then also my clothing I was wearing was like big pants and like, tight corsets, you know, so just very, like, all this mystery. And now I think it's very like in the sense of like the stylish or like the glamour, so it's like a very high-class drag. Very pretty and sparkly. And that's just more of the mindset now. So again, there are so many essences.
GayDenver: What made you want to get into drag? Why is it important to you?
Juiccy MisDemeanor: Drag not only saves but changes lives and perspectives. The world is a crazy place. It's funny people are getting so bent out of shape about drag recently when drag spaces and ballrooms have been prominent spaces for many minorities for decades. Drag has been a haven for people for years, a place to be fully expressive. When I do my drag it's a way for me to escape and fantasize. Juiccy may be busy, she's dancing, she's saying hi to people, she's joking, and she's enjoying this euphoric spotlight. Once she's there, she can spread that feeling to the audience. My only concern is to make sure that people are having a good time at my shows. I want to spread that feeling, that vision.
GayDenver: If you could put anything on a billboard what would it be?
Juiccy MisDemeanor: I always say, "Grit and grace, we exist." You have to have a little grit, you know, hard work or make hard sacrifices sometimes. But no one can live hard like that forever. You have to give yourself and others some grace to balance out those hard times, that hustle, that grit. My mom taught me that I deserve to be seen, I deserve the grit to persevere and grace to thrive. I believe that everyone deserves that.
GayDenver: What's one of the more surprising experiences while doing drag?
Juiccy MisDemeanor: Honestly, how hard it is. I didn't realize how time-consuming, how draining, or how expensive it was. I didn't realize how much work and effort, what a full-time commitment it would be. I have a full-time job and do drag on the weekends or when I can. I respect and envy the Queens I see that have transitioned to a full-time drag role.
I'm very much a dancer, always have been but a fully booked weekend will leave my body tired! Gotta stretch and warm up before! My favorite part is traveling. It's so great to go to other cities and see a whole new side of the drag world.
GayDenver: Anything you'd like to say to the readers?
Juiccy MisDemeanor: Well, on behalf of your Miss Peach 2023 and the Fruity Pageantry System, XBAR, and just Juiccy Misdemeanor herself, I want to say thank you to anyone reading. I love and appreciate the support Denver has shown for the local drag circuit. If I were to give any words of encouragement or advice it would be: you matter. You are important. Wake up every day, knowing it's a new day, it won't be the same as yesterday. Through grit and grace, we exist!