Sexploratorium is Denver's newest sex education hub. Founded by Fawn and Casey O'Brietzman, this emporium of sex seeks to make sex fun, safe and enjoyable for everyone. I'm excited for this queer-owned, professor-founded sexual education establishment to get off the ground. As I spoke with them about why they left academia, it became clear how much passion the instructors are going to bring to the table. Read below for a glimpse into what may become the essential sexual education hub for Denver.
They'll have a grand opening on August 5th starting at 5 pm with snacks and live music. At 7 pm they'll introduce their first class on Boundary Basics with an optional cuddle puddle afterwards. After they open come check out their space at 1800 Broadway, they will have a free library, and additional literature for sale and their retail space will serve as a community space!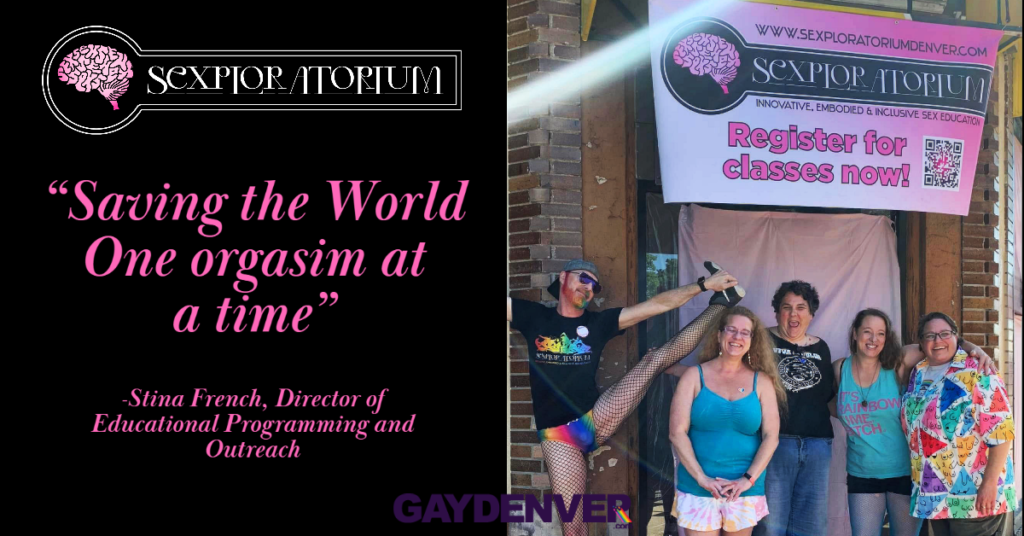 GayDenver: How would you describe Sexploratorium?
Sexploratorium: We're an adult sex education center that is focused on making sex education fun and accessible. Shouldn't sex be fun all the time? It should, but for some people, it's not. Sometimes information is presented dryly to gain legitimacy, but the reality is, that's kind of ridiculous. If we embrace the ridiculousness of it, we can learn, we understand.
We want this information and these lessons to be fun and approachable so as to push out shame. You cannot learn in a shameful state, shame shuts down the imagination, and closes a person to possibilities. It's ok to giggle about it, to be able to talk about the pleasure of sex and talk about it in a real way that's not pulling punches or trying to be euphemistic.
GayDenver: Who are you?
Sexploratorium: On the public-facing side there are the two founders, Fawn and Casey O'Brietzman. Stina French is our Director of Educational Programming and Outreach. Fawn and Stina were professors at Red Rocks Community College and Casey taught at Lamar Community College.
We're professors. That's what we've done for 20-plus years each. There are people with sexology degrees and some of them will be guest-teaching our classes. They are a valuable resource and we look forward to working with them, but college professors have a special way of teaching adults. With our experience in the Scholarship of Teaching and Learning; our years of successful classroom management; and all we've done to develop as teaching professionals throughout both our careers, we feel that we are uniquely set up for success. We're experts in andragogy, the pedagogy of the teaching of adults.
GayDenver: Who is this for? Will you have LGBT-specific classes?
Sexploratorium: Anyone can walk off the street and attend as long as there's room and they are respectful. Everyone deserves access to knowledge pertaining to their own bodies and the topics related to them. We didn't think it was right that only people in college should be learning this. It's one of our particular missions to get cis-gendered straight dudes in our space, as we feel a lot of healing can take place there. This space is not just for queers.
When we used to teach a human sexuality learning community together in a college environment, our students said things like, "Everyone should have to take this." "Why didn't we learn this in ninth grade?" "Had I learned earlier, I might not have been sexually assaulted." "If I'd learned this earlier, I wouldn't have spent 20 years in a sexless joyless marriage." "I would have recognized my true gender identity sooner." "I would never have known I was trans without the information that you presented in class."
GayDenver: What prompted you to start this?
Sexploratorium: This is the stuff of life! This is the reason we were teaching! We both felt like academia was making it too hard. The morality police seeping in…the bureaucratic numbers crunch and contempt from administrators that falls disproportionately on your professors and employees with invisible disabilities. We could not operate to our utmost capacity anymore inside of academia.
GayDenver: How are you different from other sexually explicit spaces or from a typical college classroom?
Sexploratorium: We don't want to replace dungeons or play parties. We want to serve those folks who would never normally go to a place like that, but who would go to a classroom. We'll send them on to the dungeon spaces if they want to get even "spicier" than we do or experience offerings we don't have! We hope to get to know teachers from those spaces who might also like to teach for us, as well.
For us, the Holy Grail is when you have an incredible grounding in the theoretical, research-based side of academia with this openness to innovation from our own lived experience in non-classroom settings, such as play parties and dungeon spaces. That's where we shine because we have both elements. And we are always willing to reinvent and try new things in our approaches.
Also, we can be more responsive and timely to our students' needs than a college. We don't have to wait months or years to get approval to teach new curricula. We have always listened to our students, and this more flexible learning model allows us to do so even more fully: What do you need? Where are you at? How do we bring this to you?
How were we ever going to lead a kissing workshop in academia and not get fired or written up?!
GayDenver: What does a safe space mean to you? How do you plan to keep it safe?
Sexploratorium: It's a space where it's okay to be "stupid," where you can say things might make other people, in other settings, go, "What's wrong with you?" Because people have a lot of those kinds of questions. And we refrain from asking them because we're afraid of hurting people's feelings. We're afraid of looking bad. We're afraid of a lot of things. In a safe space, you should feel empowered to experiment and get out of your comfort zone.
Also, there are a lot of fucking really irresponsible space holders who don't know how. Who won't learn how even when community members try to adjust them. They go ahead and claim they're a "safe space" and do it anyway and a whole bunch of people can get harmed. Fawn and I have been in classrooms for 20-plus years each, weekly, holding space. That level of experience teaches you about what it actually means to create a safe space. Have we experienced conflicts in the classroom? Oh, yes. Sure. Safe space is not an absence of conflict. It's the presence of people really listening to each other. In all these years of experience, we've developed ways to deflect, mediate, and use compassion and humor to reach common ground.
GayDenver: How does pricing work?
Sexploratorium: We have a sliding scale. In a class of 20, for example, there will be 10 on a sliding scale. The first 10 tickets are about half of the full price, so if you get there early, you can get those more economical tickets. The one-and-a-half-hour classes range from $30 to $60 and then the three-hour classes are $60-90. We also have a couple of donations-based offerings each month, as we want this to be accessible to people who don't have the funds to spend. Our lobby will also be a relaxed place for book club meetings and such.
GayDenver: If you could put anything on a billboard what would it be?
Sexploratorium: "The more you know, the more you come." Or maybe "Saving the world, one orgasm at a time."
GayDenver: Anything you'd like to say to the readers?
Sexploratorium: To get sexual education and knowledge, you can go to experienced teachers offering one-off classes via Zoom. But you're not getting that opportunity for in-person presence and a wide variety of topics all in one place. You can go to the internet, you can go to porn, and you can see some of this stuff. But what you're not getting is the context, the safe ways to do these things. The community discussion and contextualizing, which can normalize your desires or behaviors. You're not getting the human side, you're not getting the help in decreasing shame when you're sitting there in that little solo moment with the internet and the Google search. This is that opportunity to get that information in the communal round where we can all process it together. That's where the shame-lifting happens. Your Joe Schmo over here talking about the last orgasm they had when they masturbated and you're sitting over here and you're like "I've never even talked about that out loud!" Every single person out there who's thinking of taking a class with us, we want you to know you have the potential for that kind of transformative sparking moment in our environment. That's no matter what level you're at.