In the green chili capital, taco Tuesday is a serious deal. In this article, we will show you the best places and deals to celebrate taco Tuesday in Denver. With so many options it can be hard to sort through! Taco Tuesday is a great way to enjoy a delicious meal with friends and family. The combination of warm, freshly–prepared tacos and the variety of toppings and fillings available make it a flavorful and fun meal. It's a great way to celebrate surviving the weekend without breaking the bank. Tacos, drinks, and conversation, it is the ideal way to bring people together. Many of the options listed in this article are in Central Denver.
Best Taco Tuesday Deals in Denver
Denver Eagle
Denver Eagle is an amazing, newish gay bar on West Colfax. They have a great, standing menu but their taco Tuesday deal is one of my favorites in Denver. From 4 pm to 9 pm every Tuesday they have $1 street tacos! They are packed up let me tell you!
Paired excellently with tacos Denver Eagle features $2 0ff Espolon tequila drinks and $2 Jose Cuervo shots. Afterward, stick around and get BOGO off drinks if you or a friend are shirtless!
Torchy's Tacos on Broadway
Torchy's Tacos may have started in Texas but that just adds to their taco street cred! We are talking specifically about the Broadway location, as offers may vary from store to store. Torchy's Tacos is famous for its queso but taco is literally in their name. They have $2 off any cocktail from 3pm to 6pm. They also offer an amazing rewards program to satiate the stoutest of taco eaters.
Denver Sweet
It makes sense that Denver's favorite bear bar also has a great Taco Tuesday deal, the bears need to keep that sexy physique up! Denver Sweet is located just off Lincoln making it very easy to drop in and grab a post-work/pregame treat! Denver Sweet has sold stuffed $2 tacos that pair excellently with the 3-dollar Pacificos or their $5 house margaritas. Denver Sweet has a standing 'Solve That Puzzle' event on Tuesdays at 7 pm. Play some games and win prizes right after your taco massacre.
Stoney's Bar and Grill
Located a block away from Vybe (one of our favorite hangouts), Stoney's Bar and Grill only does tacos on Tuesdays and they do it well. They have everything for your friend group: $2 tacos, $6 quesadillas, or $7 nachos. You can even do fish tacos for $3! They of course have their regular menu available if someone doesn't want low-priced quality hookups.
No Taco Tuesday is complete without beer and tequila, and Stoney's Bar and Grill has plenty of options to help you eat your max like a starving dinosaur. They feature great house margaritas with 25 oz Dos XX for $6! I think this place earns the right of a stand-alone travel destination but it wins extra points for being so close to so many other establishments like Vybe, Boyztown, and Mutiny Information Cafe.
3 Kilts Tavern
This cozy, queer-owned and operated Irish pub makes a mean taco. Right in the heart of Capitol Hill, 3 Kilts Tavern is the go-to spot for drinks and house-made food. This really shouldn't be a surprise as they make everything in-house, from scratch. Come in on Tuesday from 4 pm to 7 pm, and get 3 Tacos for $6. These street tacos come in Chicken, Steak, or Carnitas. All meat has been shredded in house and comes with freshly made pico de gallo. Take advantage of their drink specials while you are there! They have $5 Guinness, $5 Craft & Import Draft , $4 Well Drinks, and $4 house wine.
La Diabla Pozole y Mezcal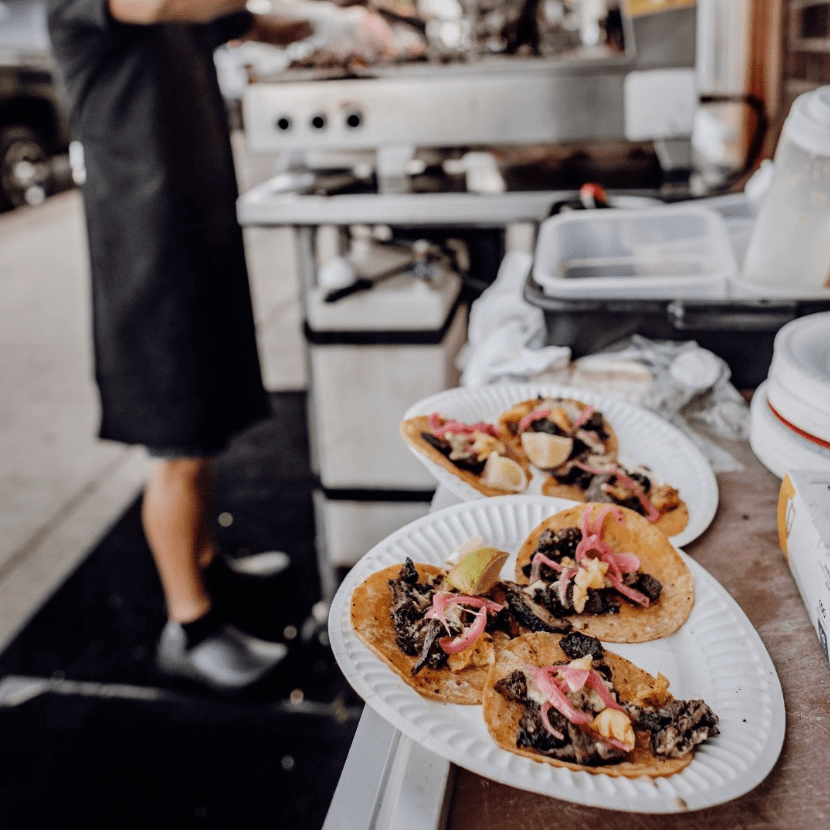 La Diabla is an amazing new spot that was recently named Best New Restaurant of 2022 by the Westword! This place is well known for authentic cooking and expansive mescal selection. All day on Tuesdays you can get street taco versions of their tacos for $3. Stop by for a wonderful experience!
Did we forget your favorite place? Reach out and tell us!