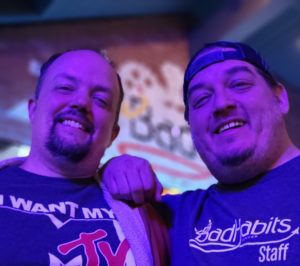 Bad Habits is Denver's newest gay bar, opening about three weeks back. Located at 3014 East Colfax, this two-story bar and restaurant have a lot to offer. I got to sit with the owners Billie Hawkins and Tony Pachelo a week after they opened. Over a delicious plate of Wisconsin Cheese Curds and marinara, we talked about their history and goals for Bad Habits. This is Tony and Billie's first joint business venture and I feel that they are going to do wonderfully. They made it clear that Bad Habits will be inclusive to all members of the Denver community. Come try their delicious food with over 15 dipping sauces and made-to-order 6" and 12" french bread pizzas. I'm looking forward to coming in for their 'reverse happy hour' from midnight to 2 am, where all drinks are $1 off.
Keep an eye on this venue as their grand opening will be on March 11th. They will be having a Lua party with live Polynesian dancers! After that date, they will be unrolling their official happy hours and weekly event!
GayDenver: How would you describe Bad Habits?
Bad Habits: It's a gay-owned, gay-operated bar/eatery that welcomes all patrons. Anyone that wants to have a drink and food in a comfortable setting. We intend Bad Habits to be a community establishment not just for our immediate area but also the community at large: Downtown, City Park, Capital Hill, and Aurora, we want anyone willing to accept people for who they are.
GayDenver: Tell us about the two of you! (What did you do before, how long married, etc.)
Bad Habits: We have been married for 10 years and together for 13! I (Billie) work in computer engineering and currently work as a director for a software company. I'm no stranger to the service industry though, I have 18 years of experience working in and managing bar/ restaurants, and greasy spoon sort of places. That whole service industry has been in my blood since I was 12.
I (Tony) have a business degree, it's always been a dream of mine to own my own business. I've worked in retail and banking but the majority of my career was in the airline industry. I was part of the safety ground crew and operations teams.
GayDenver: Where did the name come from?
Bad Habits: We mulled around tons of names! We were driving somewhere when Ed Sheeran came on and it just clicked with both of us. We put it on the list! It eventually made it to the voting stage; we had friends and family vote to help us decide. We had to tear through a list of 50 names. It took a while, that's for sure. The bar was almost called Libations or Joystick because we wanted to focus on video games. We didn't go with Joystick because we didn't want to be pigeonholed as just a gaming bar and we didn't want to exclude anyone.
GayDenver: What is your goal with opening Bad Habits?
Bad Habits: We want to be supportive of the LGBT+ community as we are members, but I don't want people to feel like they can't come here because we are gay-owned and predominately gay-operated. We don't feel like that is happening, we've had all sorts of wonderful people come by, and every day has been a diverse crowd and different than the day before.
GayDenver: Do you offer food? What kind of menu?
Bad Habits: Just starting we're offering a lot of quick, easy crowd-pleasing bar food. French bread pizzas, jalapeno poppers, fried ravioli, and mac 'n' cheese bites to name a few. We have a full kitchen so we are playing around with some ideas that should come out in spring like hummus and deep-fried mushrooms. Our french bread pizzas are cooked to order and customizable. We don't want to try to reinvent the wheel with our menu but we want it to be distinctive to us.
Especially with it being winter, we are sticking to a lot of comfortable, filling foods while we experiment. Today one of our cooks made chili and everyone's been enjoying that.
We also want anyone to be able to eat here. We take allergies and dietary restrictions seriously here. We have separate stations for anyone that's gluten-free, celiac, or vegan. We have separate fryers and air fryers for meat, veggie, and gluten sensitivities.
Salads, tempura batters, and hummus options coming soon. Taquito Tuesdays is an idea that they are kicking around.
GayDenver: Are you thinking about specialty menus like brunch?
Bad Habits: We are thinking about brunch and how we want it done. We don't want to be a brunch place per se but a place that has a great brunch. We don't want it to consume our personality. Everyone, especially our neighbors, has requested a brunch menu. We are thinking about opening at noon on the weekends and serving skillets, biscuits and gravy, and mimosas.
GayDenver: I was delightfully surprised to learn how seriously you take your mocktails.
Bad Habits: We want to cater positively to people that don't drink. I'm old enough now that a large portion of my friends has decided to not drink for many reasons. Whether it's by choice, for health, or because of addiction, we want to support people in living their lives the way they want. We have four nonalcoholic beers, a line of nonalcoholic seltzers, and nonalcoholic spirits like gin, vodka, rum, and whiskey. Those proofless spirits have the same flavor profiles as the real deal and they go into any one of our 16 house-crafted mocktails.
The crowd that wants to come out and socialize while not drinking deserved more than cranberry juice with soda water. Some places will give you your nonalcoholic drink in a plastic cup that can attract unwanted attention and questions. We are a 21+ establishment so all of our drinks can be in the same glasses.
GayDenver: What kind of events will you be running?
Bad Habits: We just purchased the licensing to broadcast, so we intend on showing sporting events. We are working with vendors for a Valentine's Day event called Fire and Ice. Fireball and 360 Huckleberry here giving out shots for Valentine's day. We will be having a big party for the super bowl of course! Our grand opening will be March 11th, and we will be having a decades party with our friends who are authentic Polynesian dancers performing.
As the weather improves we plan on really utilizing our lower and upper patio spaces, possibly for beer busts. With our two floors being so well separated by a brick wall we can hold events separately. We are also kicking around the idea of a gin tasting.
GayDenver: Let's talk happy hour and drink specials.
Bad Habits: Happy hour is 4 pm to 7 pm every day which takes a dollar off EVERYTHING. We also do a reverse happy hour from midnight till close meaning everything will be 1 dollar off everything as well. After the grand opening, we will be doing more structured happy hours and drink specials like BOGO drinks.
GayDenver: If you could put anything on a billboard what would it be?
Bad Habits: "Bad Habits Denver – Come as You Are". That's a great summary of what we are trying to do here. No one here is expecting you to be anything but yourself.
GayDenver: How are you hoping to impact the queer community in Denver?
Bad Habits: We have a list of names and organizations that we look forward to working with. Contributing to the community is a part of our core business plan. We have just been so busy getting everything up and running. As soon as we stabilize, we look forward to working with the amazing organizations here in Denver.
GayDenver: How will Bad Habits be different than the other gay bars in Denver?
Bad Habits: The level of tolerance and diversity is critically important. I want a diverse crowd, with people from all walks of life respecting each other and having a good time. We are a gay-owned business but we don't want this space to be only for gay men. We don't want people to feel that they aren't welcome here because of who they are or how they identify.
We hired the staff through phone interviews before we met them in real life. We wanted to focus on the talent and personality that each person could bring to the table.
GayDenver: What would you like to say to our readers?
Bad Habits:
Billie: We hope that you can welcome us as much as we want to welcome you. When I first got here, the Denver community was so kind and accepting. I felt taken care of here, now is the time for me to reciprocate that.
Tony: I hope that everyone has a great time here no matter the time. I look forward to hearing from the community. I may not be able to do everything suggested but I take what is said to heart.