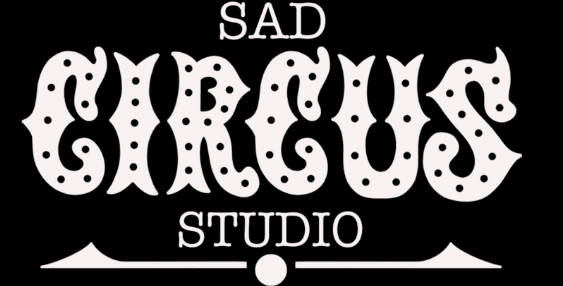 After meeting owners Nicolai and Angell I have to say, I'm in love with Sad Circus Studio. They are both wonderfully authentic and their dedication to their client's needs is extraordinary. They filled me in about how many negative experiences they had with various tattoo shops or had seen queer customers not get the respect or time they deserved. This spurred them into action to create the space they envisioned, where everyone is welcome and respected. They opened Sad Circus Studio in July 2021, Denver's only transgender-owned tattoo parlor.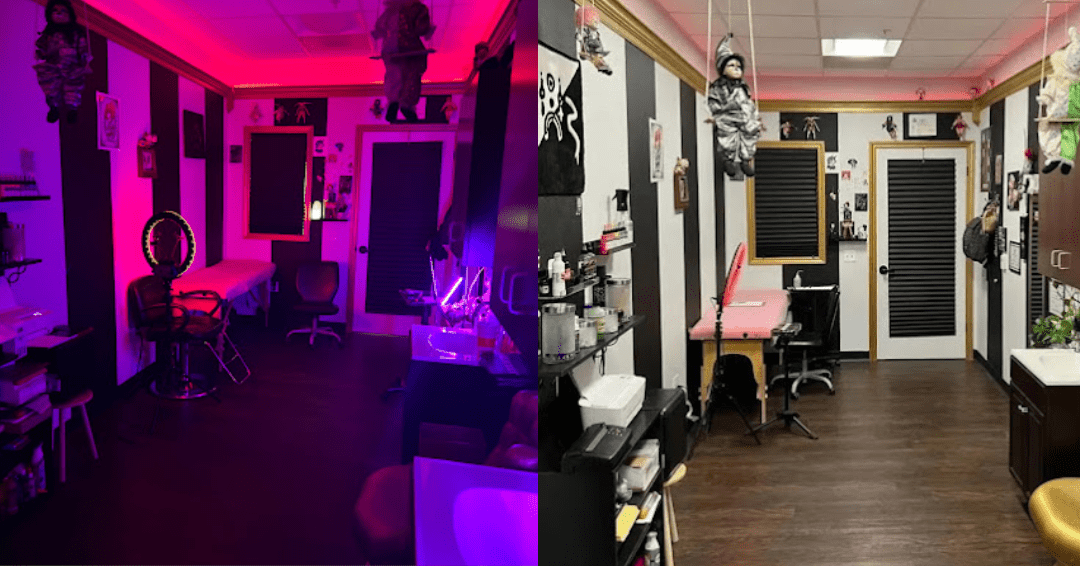 GayDenver: How would you describe Sad Circus Studio?
Sad Circus Studio: We describe it as an entirely different way to experience getting a tattoo. We try to be very inclusive; we try to keep a low-lit area. We don't want to overstimulate, especially when you're going to be strapped by needles. Trying to make a fun, safe environment to make some cool art has always been our goal.
I have worked with a lot of clients that are not only just from the queer community, but also I work with a lot of clients that are very anxious or also clients that are on the spectrum, like the autistic spectrum, and dealing with clients that maybe have also trauma-related things. So we tried to, you know, be able to accommodate things such as lighting: like as of right now, the room that we're in, it's kind of more the red lights and stuff like that. But where there's definitely open availability to change any of those things. Because sometimes, some of those things may be triggering for clients for whatever reason, one or another, trauma or just preference-wise.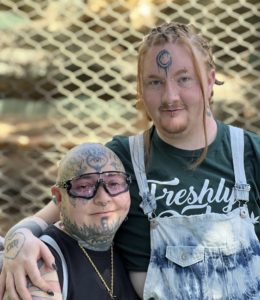 GayDenver: Tell us about yourselves. Where ya from, how long have you been tattooing?
Sad Circus Studio:
Angell: I was born and raised in Salt Lake City. Interesting, that's for sure. It's shaped who I am as a person. I've grown up around a lot of conservative people. And I don't feel like I've ever really been able to be out with a voice until we moved here, which was nice. Because, by myself, I've been tattooing since 2019. So I'm still basically a baby artist, and I guess not really anymore. It's 2020. It is 2023. Wow. But I've been tattooing since then. I had a pretty terrible apprenticeship at first with that shop where I was getting misgendered. I was not being treated with respect. And then luckily, I met Nico, and he took me under his arm and taught me how to talk at his shop. And then eventually, we ended up falling in love. It's kind of what happens when you're around each other 24/7. And it's just been nice because we both have always had the same views about everything. He's always pushed me to be very, I don't know, to embrace my art style. I went to college for illustration and ended up switching over to tattooing.
Nicolai: I was born and raised here in Denver, Colorado, literally, the same area that I live in now. I've been tattooing for about, I want to say eight, about eight years now. And I have been through quite a few shops,
GayDenver: How would you describe your art styles?
Sad Circus Studio:
Angell: I do a lot of charcoal work. So, that entails a lot of texture, and I like to do cute little animals, I like portraits, anything like that. Lately, I've been doing a lot more color. And I'd say that follows more along with the type of oil painting-type style with the way that I blend everything and all that fun stuff. [View Instagram]
Nicolai: It has developed over—I want to say the past few years. I mean, I've been tattooing for eight years, and I've done a lot of different styles. I've done pretty much everything you can do, you know, realism, colorwork, Neo, traditional American traditional, soft fine line stuff. I've done all kinds of different styles. But when it came down to it, feeling connected with my art, I enjoyed tattooing those things, it's not that I didn't enjoy them, or that I didn't feel fulfilled by them. It's just that they didn't feel the same as it is when I am creating with a client, a lot of my tattoos that I do are also free-handed. So, a lot of my clients, I will sit here, I will draw on them, I will just, we just kind of bounce ideas. [View Instagram]
GayStudio: Why is advertising as a queer-owned and run establishment important to you?
Sad Circus: When I look up a tattoo shop, what I'm immediately interested in, is whether are they queer-friendly. Do they have any transgender tattoo artists? Are they transgender affirming? Do they have artists who are also queer that I can relate to and feel safe with? If we don't advertise, no one's gonna find us. I know it can open the door for people who don't necessarily agree or whatever. It can open the door to that hate. But honestly, it opens the door for us to meet so many cool individuals and gives them somewhere comfortable. Love will always overpower hate. We are proud transgender tattoo artists!
GayDenver: How is Sad Circus different from other tattoo shops?
Sad Circus Studio: We strive to be ourselves and do right by our clients and that makes us different. It's what makes Sad Circus, us. We offer free touch-ups on our work as long as it's apparent that our aftercare instructions have been followed. People always think that we can't tell but we can. If a line isn't as pigmented, or something isn't as starkly colored as we wanted, we are happy to touch that up. If your dog scratched your tattoo or you didn't follow our instructions then the touch-up will not be complimentary. We won't do touch-ups on tattoos on hands or feet either, those areas are just so prone to fading. We will be happy to touch up tattoos on hands and feet but there will be a setup fee that'll run about 50 dollars.
GayDenver: What are your rates?
Sad Circus Studio: Our shop minimum is $150. The tattoo has to be simple and needs to be executed within 5 minutes. We do that because of taxes, the aftercare that we provide, and supplies. It's a protective measure. We don't charge by the hour, we don't like that method. We want to be able to take our time and allow for breaks, both for the client and us. Where the tattoo will be located on the body will also affect the price. We both have different pricing methods.
Angell: I typically do a lot of smaller detailed tattoos. They usually run about $250. It's a lot of fine-line work and small details.
Nicolai: I typically do larger pieces, so my pricing is broken down into half-day (3-4 hours) sessions and full-day (7-8 hours) sessions. The half-day is usually $700 and the full-day is $1400.
GayDenver: How do you feel about numbing cream?
Sad Circus Studio: We do offer numbing creams for comfortability and different comfort levels for different occasions, which is important to us. We're not here to shame anyone for not wanting to deal with the pain of collecting art. Yes, you can ask for numbing cream, we won't degrade you for it.
We've had TKTX (numbing cream) in our shop for a while and we love it. We tried it on ourselves first to great success and our regulars love it. We are sponsored by them. We also offer a CBD glide that we like to use if the client is ok with the CBD aspect. It's called Canna Glide and we love it because it reduces redness in the skin extremely well.
GayDenver: How many artists do you have currently?
Sad Circus Studio: Just the two of us for now, but it's a goal of ours to invite other local queer artists into our space. We have such a cozy space, we don't want it to get crowded.
GayDenver: Are you accepting apprentices?
Sad Circus Studio: Not at the moment. We want to give back to the community and help our fellow artists but with everything going on we couldn't give our full attention to the potential apprentice. Someday soon, hopefully, but not yet. We look forward to mentoring new artists.
GayDenver: If you could put anything on a billboard what would it be?
Sad Circus Studio: Unusual art for the extraordinary client.
GayDenver: Do you have limits about what you won't tattoo?
Sad Circus Studio: Anything gang or hate related we won't tattoo.
GayDenver: Is there anything you would like to say to the readers?
Sad Circus: If you are willing to stop by and just meet us I think you will be pleasantly surprised and delighted. Let's get together, create and collaborate.