Welcome to GayDenver's Monthly Drag Spotlight. This month we're talking to recent OutFront covergirl and all 'round badass: Dixie Krystals! She's well known in the Denver drag and non-profit stages for outstanding and consistent work. We were ecstatic to talk to her and definitely put her through the gambit. As a resident queen of the Triangle, that's the easiest place to meet the legend herself. Below we get into all manner of matters: humble beginnings, plans for the future, and how to support Denver drag artists.
Q: I loved your cover and spread last month's (March) OutFront Magazine. What inspired it? (CLICK HERE TO VIEW HER SPREAD)
A: Well, it's a funny story. So, the gal who was the photographer, I did a photoshoot with her in the past. She contacted me with an idea she wanted to pitch to OutFront. She sent me this Pinterest board of people vacuuming and cleaning in 1960's magazines. They were all wearing high fashion, but they were cleaning everything in the house. Well, I had seen that many, many moons ago, so I was on board immediately. My house is mid-century and perfect for this. It was an amazing time being on the same page and everything was clicking together. I thought it turned out wonderfully but I had no idea it was going to be on the cover. I know the owners (of OutFront), and so they were keeping it kind of on the hush-hush. Nobody told me until a friend of mine approached me on Saturday it was published. They said, 'Look, what's on the shelf?' That's when I realized what had been going on. I was excited about that.
GayDenver: That is such a great surprise. I think I know the photos you're talking about. They'd be wearing the latest and most expensive trends while dishing out dating advice, selling products, or hoarding out tips and recipes. 'All dolled up and nowhere to go' has taken on a different context these days.
Dixie: It does, because we're, still in that whole era of what do we do? Are people comfortable going out again or are they not comfortable? People are going back into their daily lives as though nothing has happened over the last two and a half years. I think it was just kind of perfect timing and it went with the whole magazine. All the articles in that issue are all related to some sort of drag art and artists that have kind of had to pick themselves up during the pandemic to make it though because that's our livelihood.
Q: You started doing drag 25 years ago as a performer at Disney, right? What were you performing as? How did that shift to drag?
A: I started my career as a dancer for Walt Disney World and I was also a character performer at the Magic Kingdom. By the time I left, I had moved up to be a professional singer. When I left I started singing with the Voices of Liberty. My background has always been in musical theater, but the reason that I started drag was out of necessity. I lived in a three-bedroom apartment with nine roommates. Our rent was like ninety-seven dollars per person which may seem crazy cheap to you but was difficult because we were not making enough. My best friend and my roommate at the time, decided, 'Oh, we can get in for free to these nightclubs on certain days of the week if we dress in drag. So we would go to the rave in the mall and. Next, clothing and that's how everything started. The reason that it all got started is that we wanted to get free drinks!
Q: Your name Dixie Krystals came from a pretty original place. Would you mind telling us that story?
A: So back in the day, picture it, Sicily. We used to have late-night rehearsals that would go until two a.m. There was a Perkins' that was open late enough that it served as the performer hang out. One night we were sitting around musing on our successes. It had been about three months since we started dabbling in the art of drag and going out and getting our free drinks. I decided that I needed a permanent drag name. We were just sitting there at the table and I'm having my sweet tea and adding extra sugar to it. I was like, 'Oh, that's kind of cute.' I picked out the sugar packet that was from the company Dixie Crystals. Outside of that context, it had a really good ring to it. It's perfectly southern since I was in Florida. My best friend Ralph said, 'Just go with it, sister.' OK, great. From that forth, I was to be known as Dixie Krystals and the legend was born.
Q: You mentioned last year in your July 'Meet Drag Excellence' that your advice to new performers was to 'not get wrapped up in social media…. You should be doing this (drag) because you have a need, a passion in your soul'. I think that's stellar advice. It's easy to get swept up by everything, what are some ways that you get back to your core passion?
A: I think a lot of it is setting personal boundaries on social media. I don't have a personal page on social media. That's what I have the phone for, that's why I go and catch up with friends. I want those experiences to be in real time. When it comes to the business of Dixie, I do want that kind of relay available. I've noticed a trend in the drag world where when you start getting super busy you can lose track of who you are authentic. What I mean by that is who are you outside of drag? It's not about the likes, it's not about following or checking the algorithm all the time. When I gave out that advice, I was trying to get through the idea that the likes and follows aren't as solid a fan base as you may think. If you want your name to have an impact, do something good for the community!
You know, I got started in drag because I wanted to give back to the community. And so the advice that I always give to young people because they come to me all the time and they're like, Dixie, we know that you do this and we know that you do this and do this. I'm going to start this and can you give me some advice? I'm happy to give you advice. I'm not going to give away my trade secrets, but I'm going to advise on how they can make it their own because what worked for me isn't necessarily going to work for somebody younger today because we live in a very different world, but it looks like they can.
Q: How do you think drag has changed over the years? What trends do you love? Which are you waiting to evolve?
A: I mean, it's like obviously coming to the forefront more. Yeah, it's become a lot more acceptable; less alternative, and more mainstream. Drag entertainers were forced to be underground for so many years, even until the early 2000s, honestly. It was a very taboo thing. All of a sudden this insurgence happened. Honestly, it's because of RuPaul's Drag Race, but that's a double-edged sword. The show is an amazing outlet, but it's bad because now young people think that is what drag is for everybody across the board. It's certainly not, everyone has their journey. Everyone has their kind of thought process on what they want to do, from being a pageant person to being an alternative performer. We have shows like Drag You Out that focus on people that are part of that underground world. That's not my style of drag. Mind you, I just like to make people laugh and smile and comedy. I'm not there to tear people down. In old school drag, you would tear the audience to shreds because it was all about making fun of them or you know, making them come up and embarrassing them or doing all these types of things. People sometimes associate me with old-school drag. In some ways I am but I try to cater to my particular audience.
Now that I've gotten older in my years, a lot of my stuff is about giving back to the community. It's about raising money for nonprofits. It's about helping those who want to get into the art of drag and get into that piece of it. It's great that we have a Drag Race, but it's like American Idol. It all needs to end at some point. You're still not getting a clear picture of what the real world looks like in the entertainment industry when it comes to drag. There are so many different styles, you know, and so that's interesting.
Q: Is drag as important as it was 3 decades ago? Is it still a pillar in the community?
A: "Yes and kind of," are my answers. So yes, it is still very relevant and important. Young people in Florida and Texas are having their rights are being destroyed and discriminated against. Even today, I don't think we are ever going to see that and it's never going to end, in my lifetime. People of color have been dealing with discrimination for over 400 years. The injustices in the world are always going to be there for a group that the world sees as less than others in the world. It's unfortunate.
I think that drag has kind of lost a little bit of its authenticity since going mainstream, people don't do it anymore for activism. You know, as a drag entertainer, you are automatically put into a role where you need to be an activist and stand up for the rights of all people within our community when you are either performing, speaking to somebody, anything across the board. I think we've lost a lot of that. I can't even name more than five people currently active across the country that are consistently politically active. So much is happening now, and I think we've lost some of that. In the first few seasons of Drag Race, a few performers specifically were out there being activists in the community because they also grew up with that mentality.
The drag community is both entertaining and by its very definition, a place of activism. I'm a man, dressed as a woman; I'm a woman dressed as a man. There are so many wonderful variations of performances. I am a big fan of it, but it's. Yeah, it's interesting. It's so very now it's just kind of hard to keep track of everything, but it would be nice for there to be more visibly seen ways for performers to help their communities.
Q: What are some ways for drag performers to help their communities with or without performing?
A: The beauty of Denver and Colorado in general, is having so many nonprofits that are either run by people from the queer community or people of color, that we can support and promote. I've worked a lot with Ambition You, which helps with LGBTQ mental health awareness. I'm one of their spokespeople and did a great PSA for them. I traveled with them with their group on how to have 'The Talk'. How do you have to talk if you have a friend that you think is an addict to either substance or alcohol? Even if you are only worried, how do you start the conversation as a friend?
There are food banks where you could hand out food. We have Feeding Denver's Hungry, which is queer-owned and operated. Every Thursday, they're handing out food to the homeless community in Denver. You name it, and we've got it now. I mean, so many organizations have come up during this time frame, and there are so many avenues for you to use your talents or time. Activism is a huge part of the drag community. Not only what you do while you're all dolled up, but what you do outside of that. You can help write letters to your senators and your congresspeople to help get bills passed or to squash bills.
You know, I'm helping an organization called the Drew Project, which is out of Orlando. And Drew was one of the people that was shot in Pulse. I've been involved with Drag Out the Vote, which is a national organization out of New York City, where drag entertainers come collectively together, thousands of us, to help people realize what they're voting on.
I always incorporate some sort of promotion for organizations. At every one of my shows, I say, 'If you see something happening on the street and you're not sure what's happening, have your phone at the ready. Be ready to record and you need to help. It's your duty as a human being to help others in need. It doesn't matter if they look different than you, if they're a homeless person, if something looks off, just stick around and make sure that they're OK.' The second thing that I say is, 'Stop killing our trans-black.' Absolutely. Sometimes, a person will approach me saying, 'Oh my gosh, thank you so much for saying that. That meant a lot. Can you record things for my child? Because they're we think that they're trans and we need them to know that there's a community out there.' I also get the other side of that, 'Why do you get so political in your show?' To which I respond, 'I am a man in a dress. I'm already political.' Yeah, handle it. You can go to someone else's show and I don't need your money.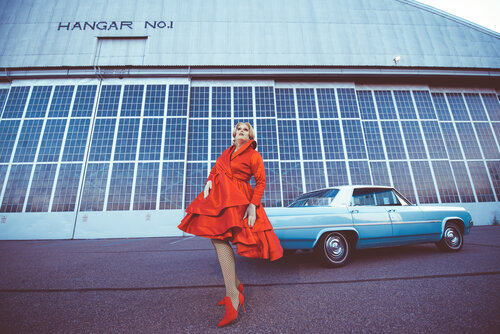 Q: What ways do you show support to your fellow performers?
A: You know, in the world of drag, it's very difficult to support everybody the way that you want to. It's also very rare that you see another drag entertainer at your show unless they're in it or they just happen to be at that particular club or bar. Across the board, it's really hard for people to support each other unless they make a conscious effort because I know for me the only night that I have to myself is Mondays. On my schedule, I usually rest and catch up with my husband. So, it's just one of those things. If it's a passion project, if it's something new that somebody's starting, it's a new show or they have a cast I'm intimate with, I'll go see it and support it. That's difficult to do all the time though. There's a serious discussion that's always brought up in the Denver drag community: don't ask to be in my show if you don't come and support it. I agree, but I like to bring up the flipside. You should invite everyone to support your show. But are they able to? Does that happen to fall on the night of a week when they also have a show? Are they busy? Are they also working five-plus nights a week? It's not always possible to see all the shows we want, everyone in this town is busy and we have such a diverse crowd of entertainers that something is happening every single day of the week.
There are other ways to support your fellow performers, and I mean the performer, not the act. My big sister Jessica Lawhore and I, go and we get pedicures and manicures once a month. My brothers and sisters in the community get together outside of drag and have dinner, BBQ, or picnic together. That's what I love. I hosted a couple of drag entertainer picnics at my house where it's just a blanket open statement. If people can come, you know, just bring whatever business they want to bring, whatever they want it, come out and hang out for a little bit and get to visit with the outside of the drag world in the dressing room. Be available to support the person in the makeup.
Q: If you could put something on a billboard what would it be?
A: "Rewind, be kind". I think we have to go back to learn how to go forward again. If that makes sense. Like the whole world, and that's like a general statement that is worldwide with the craziness that goes on, it can cause a lot of anxiety for people. But the biggest thing is in this, and it's not just to humanity, it's also to yourself. You have to be kind to yourself.
Q: Let's talk about your podcast. I love how cavalier you are with your experiences. Do you have more content rolling out?
A: Yes, I have more content coming. Another episode of my podcast will be coming out by the time this interview goes out. I've been lazy with it, but with all my projects coming up this year, they will return to the weekly schedule. It's on Spotify, Apple, Google, all the different platforms, and then the website. Starting a new venture come June with drag youth, so be on the lookout for that. Workshops and things of that nature to get youth, the safe space to be able to perform and go-to for all of that. That will also be a podcast episode as well.
Q: You used to be heavily involved with the Center on Colfax (Pride Center) as their Event Director. What have you been up to recently? Got any wonderful plans?
A: Oh gosh. You name it, I've got it. I'm also an officiant, so I do a lot of weddings. Um, let's see. I've also done a lot of diversity, inclusion, and training for companies and organizations that have asked me to come in because of the work that I've done at the center. I started doing them in drag because it kind of makes it a little more palatable for employees to be engaged at that time when they're forced to be on training all day to learn about diversity inclusion. What better way to stomach that than to take it from drag as it breaks it down in a fun way?