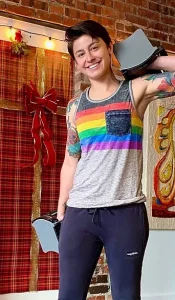 I was able to catch up with the co-owner of VIBE Gym and Wellness Collective, Rachel, to talk about how everything is running after their recent opening. Newly opened in April, this gym is one of a kind in Denver, being the only gym specifically for all women and non-binary people. A women's only gym. The gym is just north of downtown Denver, easily accessible from I-25 and I-70. It's bright, welcoming, has off-street parking, SUPERVISED CHILD CARE SERVICES (included in price), a robust array of classes, and it's a safe space for ALL women and non-binary people! With so much going on I was really excited to unpack some of the many moving parts that is VIBE. We discuss how they protect the safety of their space and what classes/programming look like. Drop in for a class for only fifteen dollars or sign up for one hundred a month!
Gaydenver: How do you identify and what are your pronouns?
Rachel: She/her, or they/them are both fine! I identify as a lesbian/queer. The co-owner Meghan identifies as queer and her pronouns are she/her.
Gaydenver: Where are you from? How long have you been in Denver? 
Rachel: I'm originally from just outside of Houston, Texas. I've been in Denver since April of 2020. I remember that all the gyms had closed in February, I had been wanting to move back to Denver (I had lived here for a short while years ago). I used all the chaos as an excuse to move. 
I love it here, I can't stress it enough. I've lived in so many different cities looking for my place in the world. I feel like Denver is it. It's just amazing.
Gaydenver: What did you do before coaching? When did you make the switch and what prompted it?
Rachel: I've had so many different jobs before I found coaching. I was working as an EMT when I started to work part time as a personal trainer. I made more as a trainer, but I also enjoyed coaching so much more.  I ended up quitting and started to coach full-time. I haven't looked back and it's been an incredible four years.
Gaydenver: How did you create the guidelines for this safe space? 
Rachel: It originally started with the inclusion of the non-binary term in our core mission statement. From there it became a safe space for for the queer community, but especially for trans people and non-binary people. We knew we wanted to create a safe space for women but as we moved forward from that general space, it didn't feel right to exclude anyone. It happened organically, and I don't think the same results would have happened had we left it at simply a women's gym. The feel and community of the gym would be wildly different and I love what we have so much.
Gaydenver: What's your guide moving forward?
Rachel: We take our member's feedback very seriously. Either Meghan or I are at the gym daily, communicating with members and people in the community face to face. Those interactions give us a clear understanding of our execution, image and the needs of the VIBE community. 
We have clear-cut goals of supporting women. We keep our goals in mind while not ignoring our personal moral compasses. A few days before Roe vs. Wade was overturned, we were going to be launching merch for the gym. Once the news hit, we decided to launch merch geared toward the solidarity of a woman's right to choose. All the proceeds went to Planned Parenthood and other organizations that support Pro-Choice.
Gaydenver: By focusing on women and non-binary people you created a pretty amazing umbrella. What sub groups have thrived in this space as well?
Rachel: The communities that I've seen thrive that I wasn't expecting are trans women and masculine-presenting non-binary people. I'm delighted to see them and to see all the different members get along and respect one another. There are just so many different ways to grow with so many different kinds of people coming together for positive and productive goals.
Gaydenver: Let's talk more about the experiences that led to the creation of Vibe. 
Rachel: For me, the moment that sticks out the most is from when we were looking for spaces. We were trying different brokers out looking for our space. They were all predominantly men,  but the issue was that you could tell that none of them grasped the core concept of what we were doing. That or were not fans of what we were doing. The summary of experiences were focused into our experiences with this one broker. Every reason that we decided to create Vibe, this guy embodied. He gave unsolicited advice, was intentionally ignorant of anything related to queer culture, was repeatedly causually homophobic ,and was condescending to the very idea of a woman's gym.
He was the worst offender, but almost all our experiences had those negative elements in them. These brokers would talk down to us and deny us for the most inexplicable reasons. Eventually, we found these amazing ladies that came through for us, but the process really fueled our drive to see VIBE to its completion.
Gaydenver: There are a number of classes available along with open gym times. Let's discuss your favorite classes. 
Rachel: Well, I'm a little partial to my classes. I teach a lifting class and a senior's lifting class. Lifting is my favorite part of VIBE's programming. Watching women that have never lifted or been intimidated by weights turn into these amazing badass lifters is so unbelievably rewarding. That was literally a dream of mine, and seeing it come together is magical.
The senior lifting program is something I kind of lucked into a wonderful way. I had a few senior clients and they loved it so much that they started telling all their friends. It's a great example of our ability to grow with our members' needs.
Gaydenver: I noticed a trampoline class on your calendar. That sounds like a lot of fun!
Rachel: Our Bounce class! It's a mixture of body weight, resistance training, HIIT, and cardio. It's a really fun, fast, high-calorie-burning workout. She brings in little personal trampolines so everyone has their own. Not everything is done on the trampoline but it's a great way to mix up your routine.
Gaydenver: Are there any more classes on the horizon?
Rachel: We are hoping to roll out more specialized bar classes. The community has reacted so well to bar training and it's such a versatile piece of equipment. We know an amazing coach that we hope will breathe vitality into that aspect.
Gaydenver: What is available for open gym? Is there a coach present to help?
Rachel: No one is specifically dedicated to the open gym yet but there are always a few coaches on campus who are willing to help. Mainly either Meghan or myself are always there and we are happy to write out a workout for someone, answer questions, or explain the equipment. For drop-ins ($15) there is an open gym, classes and of course supervised child care.
Gaydenver: For your WODs (Work Outs of the Day) and lifting classes, who programs that?
Rachel: Each coach has a different specialty so each class will be a little different. Whitney for instance used to own a crossfit gym, so she focuses primarily on Olympic lifting. We have more than a few barbell-specific classes. For myself, I'm a happy mix of traditional lifting, Olympic lifting and HIIT. We gave our instructors the space to grow their classes so hopefully there will be something for everyone.
Each class's program is made pretty much to order for the class. The coaches will read the room and take it from there. We write our own programming though; we don't pull from apps or websites. Every movement is customizable to the person's abilities so we want to push people, but safely.
Gaydenver: Let's get into the Collective aspect of your name. I see that members get a lot of discounts for services and goods.
Rachel: The Wellness Collective aspect of our name refers to associated businesses that provide our members with discounts on goods and services. We promote them on our website and social media. We have periodic markets or special events with the different vendors. They usually happen on Saturdays. We'll have anything from food to massages to goods. We have amazing companies partnered with us. [See the discounts offered by even more companies here.]
Gaydenver: Anything you want to say to someone considering trying your gym?
Rachel: Come check it out! It's a wonderful, bright, genuinely positive, safe space. There is something for everyone.
Gaydenver: Anything you'd like to say to the Denver LGBTQ community?
Rachel: I would like to thank everyone for letting us be a part of their communities. Everyone has been so welcoming and genuine. Let's stick together and support each other.