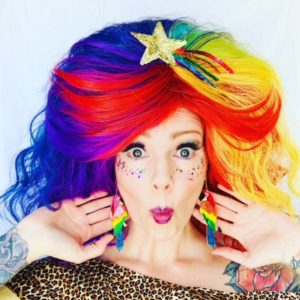 Coco Coquette is a wig wonderland just off Broadway in Denver
. I had seen them a few times at Trade's Wings and Wigs event, letting people try on something fun as a start to their weekend. I had no idea all that went into running a wig shop or how it could impact people's lives. From medical needs to personal transformations, Heather Dawn [owner], caters to anyone no matter where they are in life. "People just want to be seen and heard. They want to tell their stories in so many different ways; part of that is the outward appearance. It's really important for us as a community to learn that people are different. We can't assume anything about anyone. The outside appearance may be completely different than the inward. What a great gift to give someone: being open and accepting."Heather Dawn (Owner of Coco Coquette)October 3rd was Coco Coquette's three-year anniversary. They are cooking up something spectacular! I'll update this article as soon as something is announced.
GayDenver: What did you do before you owned Coco Coquette? What inspired you to open Coco Coquette?
Coco Coquette: I was a commercial interior designer for 17 years. I designed spaces for some very large corporations and a few government spaces. I got to see so much through that career. Towards the end of my career, I was suffering from a lot of burnout. I kept thinking to myself that there had to be a better way: something more meaningful to me, more connected to my community. I was looking to be more authentic and felt someone else might feel the same way. While planning a bachelorette party in Austin, Texas,  I came across wig parties and signed up immediately! After discovering what a wig party was, I kept thinking back to it. It seemed like there was more to it than the superficial layer. When I went down to Austin I asked the owner a million questions about every facet of her business. When I got back to Denver I sent Alison [the owner of Coco Coquette in Austin] an email asking if she would be interested in opening a store in Denver. We got to know each other and worked through the logistics and legal work over the course of a year. We were able to open our doors three years ago.
What is Coco Coquette?
GayDenver: Tell us a little about Coco Coquette.
Coco Coquette: We are a faux hair/sparkle/makeup palace. We have a room dedicated to wigs and fittings. With three wonderful makeup artists that do everything from male to female transformations to glamour. We hold wig parties after hours. We have all kinds of accessories to accentuate any look including masks, crowns, and jewelry. At Coco Coquette, we let people try on the wigs and provide comprehensive care instructions. We encourage people to show up and explore our selection. We want people to be able to make informed and confident decisions about what they are buying.
GayDenver: Tell us about the wig parties that you do.
Coco Coquette:  You can reserve the shop after hours for your party. You can bring food and drink, including liquor. You will be able to try on all the different wigs during your party. People often use our wig parties as a kick-off point for the rest of their night or weekend. We've had people celebrating birthdays, bachelor/bachelorette parties, and business celebrations. It's a great way to liven up whatever you are celebrating. I can have one of our very talented makeup artists come and do people's makeup during the event so everyone is ready for their big night out.
There are lots of great businesses that our customers go to afterward: Driftwood and HQ are quite popular. We do host wig parties outside of our shop but it really depends on the situation. I am a one-woman show, so I don't want to do it full-time. That being said, I have set up business icebreakers and been a vendor at events. It will just take a longer conversation to get it done.
A Privacy Policy for Anyone
GayDenver: You take privacy very seriously. Would you mind telling us about the precautions you take medically and socially?
Coco Coquette: Privacy is crucial. Not everyone wants the same degree of privacy but we are willing to work with anyone to make sure they feel safe. I get customers that come in for a male-to-female makeup application or a wig. They don't always live their day-to-day lives as a feminine-presenting person.
There is a lot of privacy that goes into situations like that. We are extremely careful to not post anything that any client is not comfortable with. I can close off a section or a room in the shop to ensure that no one sees what isn't their business. A few times I have talked to clients at length and held an after-hours fitting or makeup application.
These aren't my narratives to tell and I'm not using someone's specific situation to publicize my business. I don't think that's right. My customer's comfort is my top priority. We also have tinted windows so people can't just look in randomly.We have quite a few people with medical conditions that come in. The same level of privacy applies to them as well. No one will see if they don't want it.
We are following all CDC guidelines and taking additional precautions. Wiping down surfaces frequently and our staff would be happy to wear masks if requested. My makeup artists have additional face shields that they can wear. My staff and I are fully vaccinated and boosted. We want people to stay healthy after they leave.
Make up and More
GayDenver: Can we talk more about the makeup artists and their specialties?
Coco Coquette: I am currently working with three makeup artists. One is doing Draglesque on an almost full-time basis. I have two artists that specialize in male-to-female transformations. They love doing them and you really see that passion come through. One of my artists really excels at theatrical/Halloween makeup. She helped create the monsters at Elitch's, so she loves to do prosthetics and anything with dramatic flair. We have a lot of talent and a ton of options to get the look you are looking for. Our makeup artists are not here full-time, so please feel free to make an appointment.
GayDenver: Once someone buys a wig, what services do you offer afterward?
Coco Coquette: We include a special care card that breaks down all the dos and don'ts for the purchased wig. We have heat-safe wigs that can be styled just like human hair. I also encourage people to reach out if they have any questions. All emails and calls go to me and I am happy to answer any question.For events and everyday wear, I can style most wigs to the client's wishes. I just want to say, I don't do drag wigs. I have wonderful artists/stylists that I will refer you to.
GayDenver: What do you do to keep the wigs clean, since you are willing to let customers browse so thoroughly?
Coco Coquette: When trying a wig on, all customers are required to wear a wig cap. Afterward, if the guest doesn't buy it I have a UV wand and disinfectant that I use to clean it.
GayDenver: What are your wigs made of?
Coco Coquette: The wigs themselves are synthetic. We carry synthetic hair exclusively. We do this because sourcing human hair ethically and reliably has been problematic. Human hair wigs are a whole other world. I like to keep things light and fun!
GayDenver: What was the biggest surprise after opening Coco Coquette?
Coco Coquette: Definitely the wide variety of people that I get to meet and the impact that my services have on their lives. I knew that it was going to happen but I didn't realize how it was going to feel. This is my dharma, this is my gift to the world: to have this space and give back the joy of its authenticity. It is a truly amazing gift.
GayDenver: Is there anything you would like to tell our readers?
Coco Coquette: I want to stress that we strive to be a safer place for anyone to show up to. We aren't geared towards any set groups of people, everyone is welcome and everyone is accepted. I can't even begin to list the different groups of people that have come through. I have a lot of fun with the bear parties that visit us. Seeing burly, bearded men wearing wigs and makeup is just great. We have a lot of fun and want to share the delight with anyone that wants to join us.